When I began this process, Seoul was the only Korean city I could name.  It was also a place I did not want to live.  This had nothing to do with the work environment.  In fact, Seoul is a wonderful city.  It has an amazing art and music scene.  There's plenty of shopping and hiking in the area.  My one gripe with Seoul is that it has the largest population of foreigners and English speakers.  I know.  Of course that's the case! Only half of the population lives in Seoul.
Being me, I want to make it harder on myself.  By the end of the year, I'd like to be somewhat fluent in Korean.  I'm not expecting to discuss politics with an university professor, but I would like to get around. If I lived in Seoul, I may be tempted to live in an English speaking bubble.  I'm naturally shy, and I want to be forced to speak Korean.
There's just so much you can miss if you don't learn the native language.  I choose to go to this country, and it is my responsibility to learn the language.  I don't expect any ajummas working at the market to speak English. I've gotta do the heavy lifting.
Marking Seoul off my list left a number of interesting cities.
Jeju Island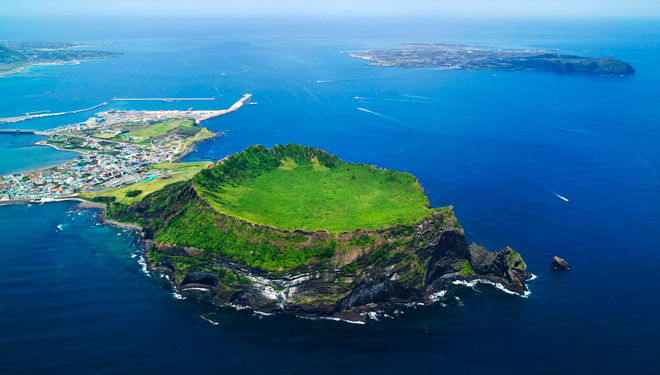 While not technically a city, Jeju was the first place to catch my eye.  Known as the Hawaii of Korea, it's a popular tourist destination.
Similar to Hawaii, or any small-ish island, I can see myself getting 'Island Fever' if I lived on Jeju.  Some people love islands, and would have a great time during the off season, when tourist aren't crowding the locals out.  Not me.  I get the crazies living in places like that.  I need to get out, and I need to have other people around me.
Gwangju
Gwangju is the southernmost large city in South Korea.  With a population of 1.5 million, it's also the 6th largest city.  Gwangju has a history of political activism.  Just look up the Gwangju Massacre to get an idea.  It's the birthplace of Korea's democratic movement, and continues to be a politically active area.
Gwangju is also known for its annual Kimchi Festival.  That' s right.  All the kimchi you can eat, along with kimchi contests.
I considered Gwangju for a very long time.  The main problem was the location.  Korea has some of the best public transportation in the world (if I do say so myself), but it's still a long ride to Seoul.  I'd like to do some travelling on my weekends.
Busan
Busan is the second largest city in the ROK ( population of 3.6 million).  With beaches and a beautiful climate, Busan reminds me of Southern California.  The Busan International Film Festival is a big draw for me.  It's one of the biggest film festivals in Asia.
Unfortunatly, Busan Metropolitan Office of Education (MOE) requires an in class component of at least 120 hours (since last I checked).  Being situated in Albuquerque, that wasn't an option.  The only way I could take an on site class is to travel to Denver.
Ulsan
Ulsan is the seventh largest city at 1.1 million residents.  It's very close to Busan, and boasts beaches of its own.  There are plenty of beautiful parks in the area too.
If you're missing the comforts of home, Ulsan has a Costco location.  Cheese is a hot commodity among foreigners, from what I hear.
There weren't any real drawbacks to Ulsan for me.  There's whale watching, and the city has a lot of nice restaurants.  I just found Daegu more appealing.
Daegu
Daegu is the 4rth largest city, with a population of 2.5 million. Not too big, not too small. It's juuust right.  Samsung was founded in Daegu as a little ol' trading company.  Kind of like Hilton taking it's baby steps in Soccoro, NM.
There are two subway lines to get around.  As with most Korean cities, you can travel by bus to any other area.
Daegu has earned the nicknames "Textile City" and "Apple City".  As an obsessive seamstress, this city has major appeal to me.  Seomun Market is a big draw.  There's an entire floor dedicated to hanbok (traditional Korean clothing)  alone. Oh, the shopping!  In fact, the city could have nothing else to offer, and I'd still choose it.  That is how much fabric means to me.
If your more of a hiker than a shopper, Mt. Palgongsan and Mt. Biseulsan are close by.
Daegu does have a few drawbacks.  Located in a plateau, surrounded by mountains, it gets some of the  most extreme weather in the country.  Expect to bundle up in the winter, and sweat bullets in the summer.  If you've ever lived through a year in the Midwest, you'll be very well prepared.
Final note to any would be English teachers:  Yes, I talk up Daegu, but these other cities are also amazing.  Do your own research and decide which place is best for you.  There are many great blogs out there to help you out.